Regular viewers of our YouTube Channel and Lap Around Australia Series will have spied our brand new off-road family caravan from Zone RV. The brand new Zone RV 21ft Sojourn is an absolute beast! We are loving this high quality super stylish caravan and look forward to putting it to good use as we travel further throughout Australia. To give you a better idea of what makes it perfect for our needs, we wanted to break down some of the features we love, starting with the interior. Look out in the coming weeks for more details regarding the exterior and smart technology features of the van. For now, read on to learn more about this caravan and its unique internal features.
Storage Options
The storage options in the Zone Sojourn are fantastic. We love the versatility and range of cupboards and drawers available and are enjoying all the extra space to store the essentials. Just a few of the options include:
Wardrobes (with hangers or the ability to convert to shelves)
Massive under bed storage (main bed and bunks)
Shoe lockers
Overhead cupboards
Kitchen drawers & cupboards
With so much space available we have had no trouble fitting in everything we need for our full-time travelling lifestyle, while still staying conscious of our weights.
Interior Lighting and Windows
The Zone RV Sojourn has an incredible array of options when it comes to lighting, providing the perfect option for every mood and occasion. The massive windows are one of our favourite features and provide endless views on both sides of the van, and the screens are of great quality and allow for more privacy. Some of the lighting and window features we love include:
Strip lighting that is zoned throughout the van
Mini bedside lights (they are even dimmable!)
Massive windows
Window screens/blinds for added privacy
Overhead LED lights with adjustable colour and brightness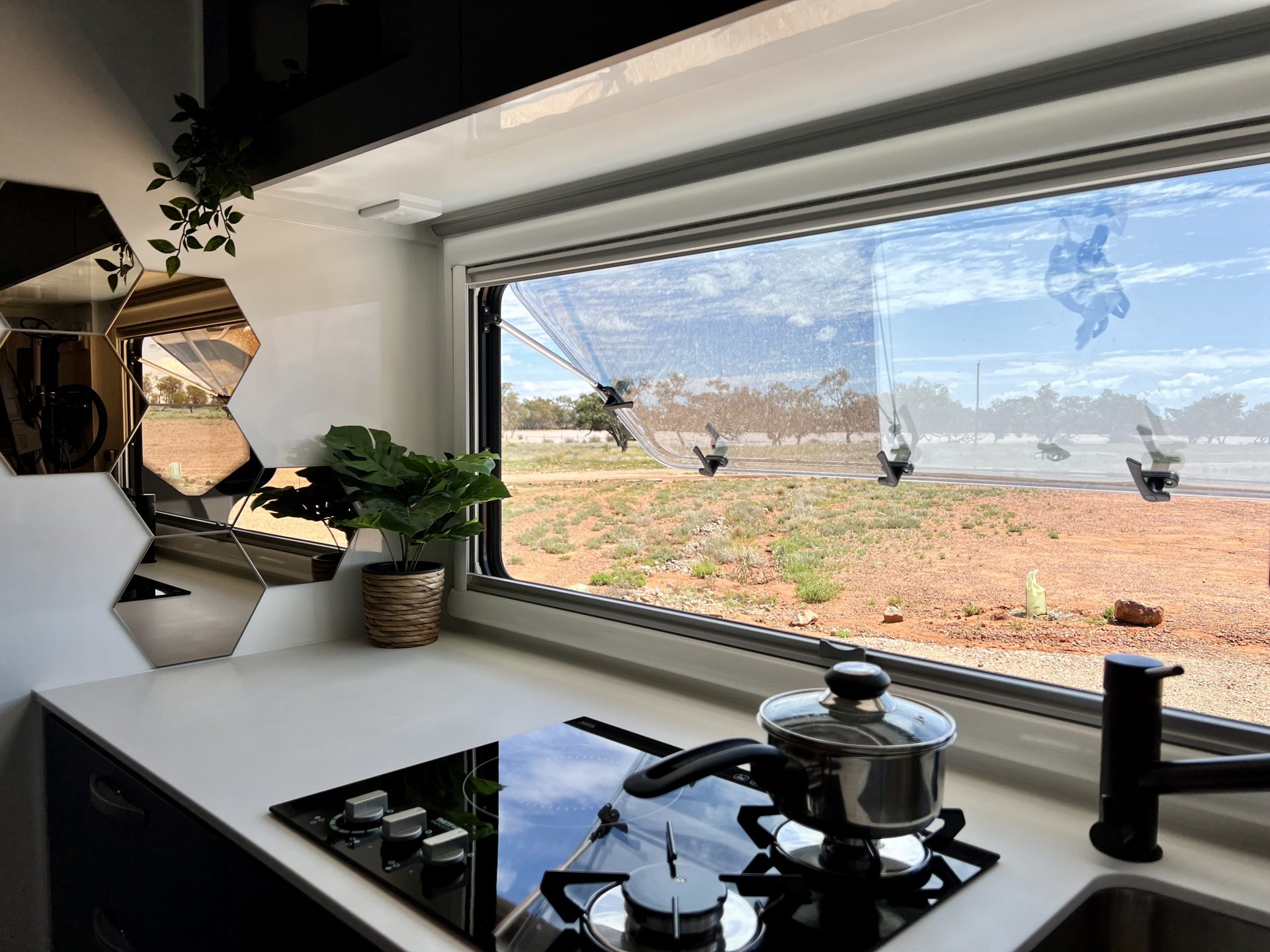 Bathroom & Laundry
The Zone RV Sojourn is equipped with a 14-litre hot water system with options for both gas and mains heating. We use a 2.5kg Camec washing machine which is ideal for our needs when washing daily. Some other features include:
Natures Head composting toilet (we'll do a review on this coming up)
Massive shower with black tapware
Spacious bathroom
Space for added shelving/hooks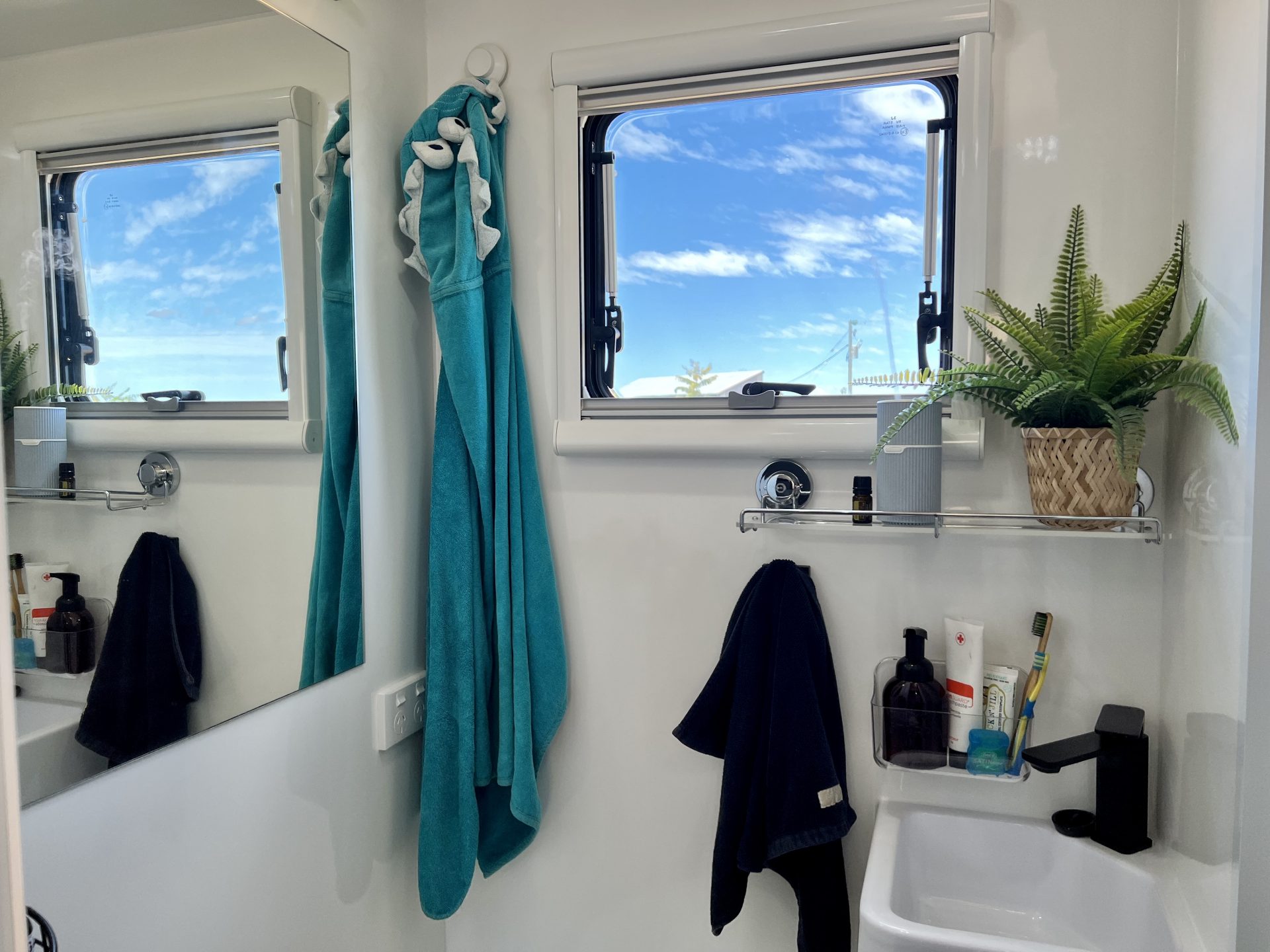 Kitchen & Safety Features
The kitchen in our Zone RV is fully equipped and comfortable for our daily needs. We opted to go without a full oven and grill, and love the extra drawers and storage space this provides. We also opted to take out the microwave as we don't really use it, and instead, have used the space as a tidy nook for our coffee machine. Some more features of the kitchen include:
A massive Thetfold compressor fridge (272 litres!)
Induction and gas stovetop
Synthetic stone benchtop
Tons of storage space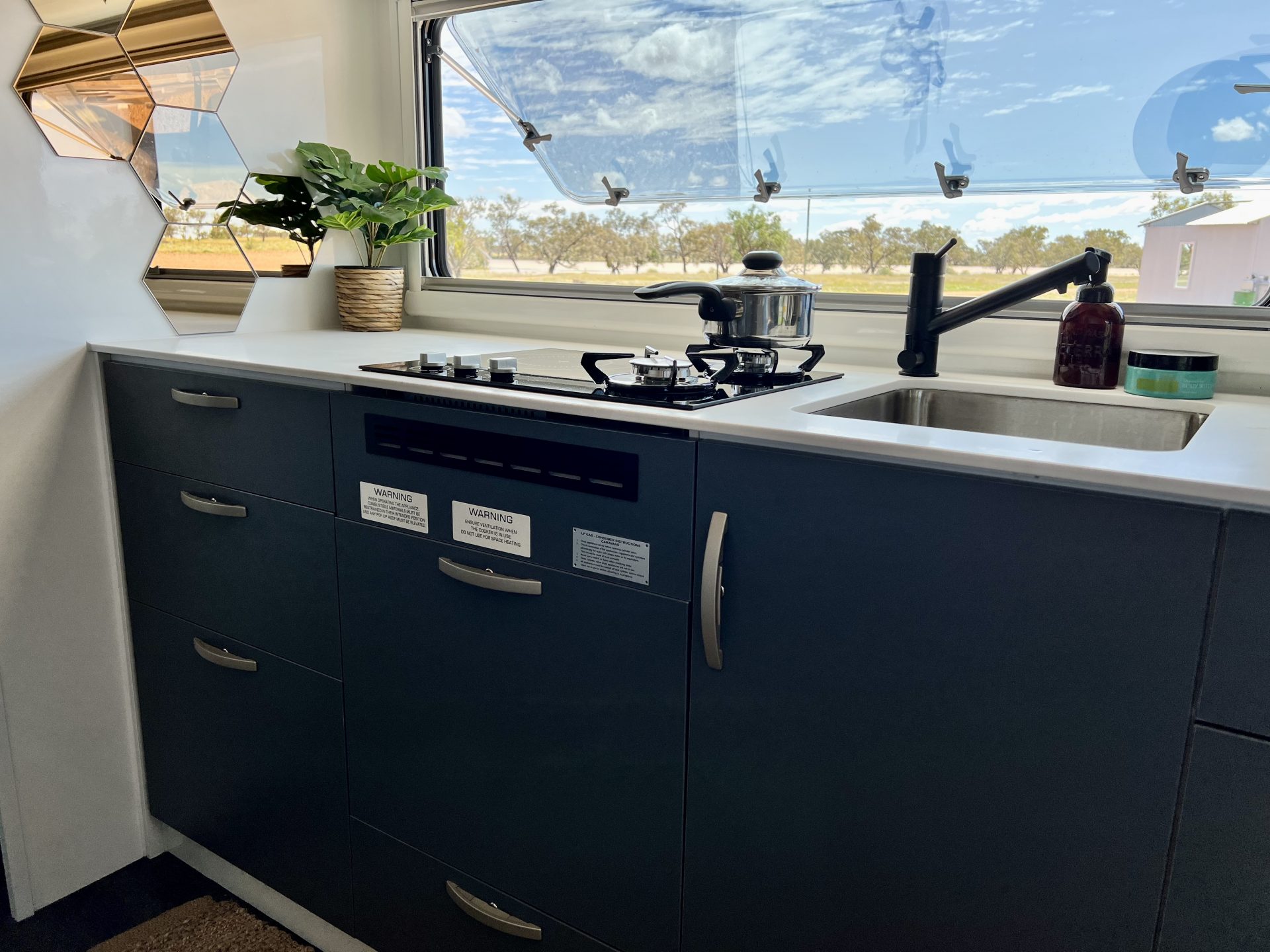 We love that the outdoor kitchen is directly below the internal kitchen window, meaning you can use the huge window as a servery.
Safety is also really important to us, especially with a little one around. The Zone RV Sojourn includes two safety gas vents to help the gas escape in the unlikely event of a leak. Included in the caravan are both a CO and smoke detector, as well as a fire extinguisher. Additionally, we keep a fire blanket and full first aid kit handy in easy-to-grab places.
Comfort Features
Being Queenslanders heating for us is a must! The Webasto diesel air heater keeps us nice and toasty when things are a little cooler outside. For seating, we opted for the chase lounge over the cafe style and think this configuration works best for families. The leather adds a touch of luxury and the seating area is nice and spacious, allowing us to all use the space at the same time. A bonus is an extendable footrest, perfect for lounging on a lazy day.
That's just a small overview of some of the interior features we love in our new Zone RV Sojourn off-road family caravan! For a more detailed look, check out our interior tour in the video below. Follow us in the coming weeks as we look a bit closer at the exterior and give you our thoughts on all the Zone RV Sojourn has on offer.