As published in GoRV, March Edition 2020
We've just completed our first 6 months on the road and we are still pinching ourselves that this is our reality! Thinking back to when this crazy idea was born, it really was a simple question that set the wheels in motion to bring our dream to fruition – What would we do if we had no restrictions, if money wasn't a deciding factor?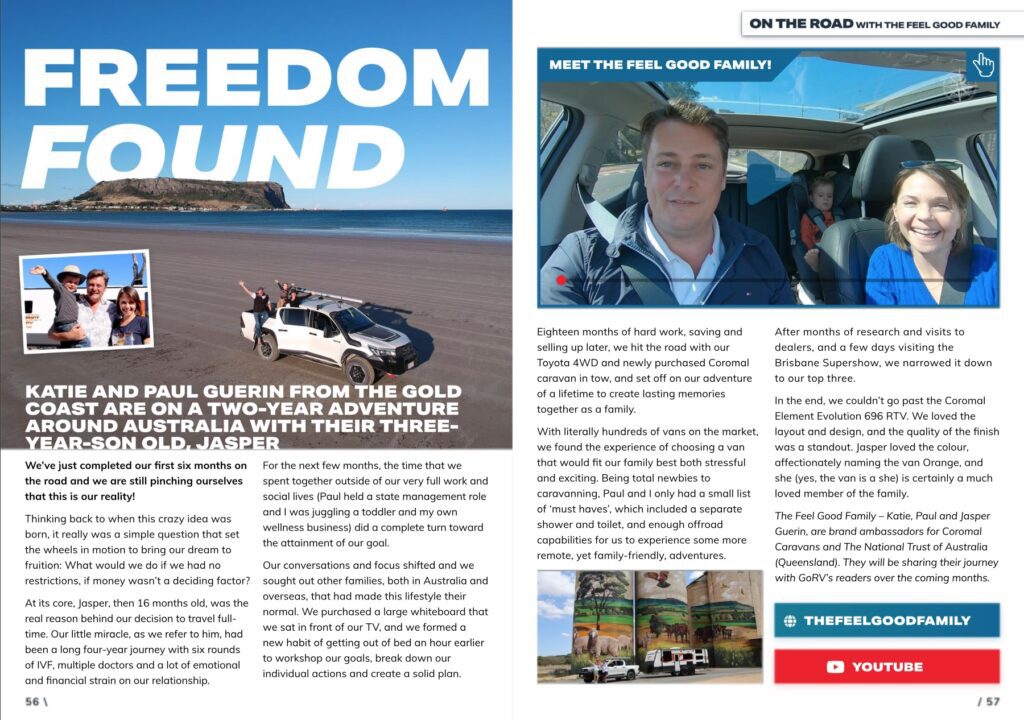 At its core, Jasper, then 16 months old, was the real reason behind our decision to travel full time. Our little miracle, as we refer to him, had been a long 4 year journey with 6 rounds of IVF, multiple doctors and a lot of emotional and financial strain on our relationship.
For the next few months the time that we spent together outside of our very full work and social lives (Paul held a state management role and I was juggling a toddler and my own wellness business) did a complete turn toward the attainment of our goal. Our conversations and focus shifted and we sought out other families, both in Australia and overseas, that had made this lifestyle their normal. We purchased a large whiteboard that we sat in front of our TV, and we formed a new habit of getting out of bed an hour earlier to workshop our goals, breakdown our individual actions and create a solid plan.
18 months of hard work, saving and selling up later, we hit the road with our Toyota 4×4 and newly purchased Coromal caravan in tow, and set off on our adventure of a lifetime to create lasting memories together as a family.
With literally hundreds of vans on the market we found the experience of choosing a van that would fit our family best both stressful and exciting. Paul and I only had a small list of 'must haves' that included a separate shower and toilet, and enough off-road capabilities for us to experience some more remote, yet family friendly adventures. After months of research and visits to dealers, and a few days visiting the Brisbane Super Show, we narrowed it down to our top 3.
In the end, we couldn't go past the Coromal Element Evolution 696 RTV. We loved the layout and design, and the quality in the finish was a stand-out. Jasper loved the colour, affectionately naming the van "Orange", and she (yes, the van is a she) is certainly a much loved member of the family!
~ Katie Guerin
New episodes of our Family Travel Australia series are released on YouTube every Sunday 6.30pm (AEST), with weekly Podcast episodes airing Friday's at 8.30pm (AEST).
Follow our adventures by subscribing to our YouTube Channel, Facebook and Instagram.