As published in GoRV, September Edition 2020
After 11 months full time on the road in our 23ft caravan, and a recent opportunity to spend 3 weeks in an Apollo motorhome rental, we wanted to share our thoughts on the pros and cons in this Motorhome VS Caravan face off.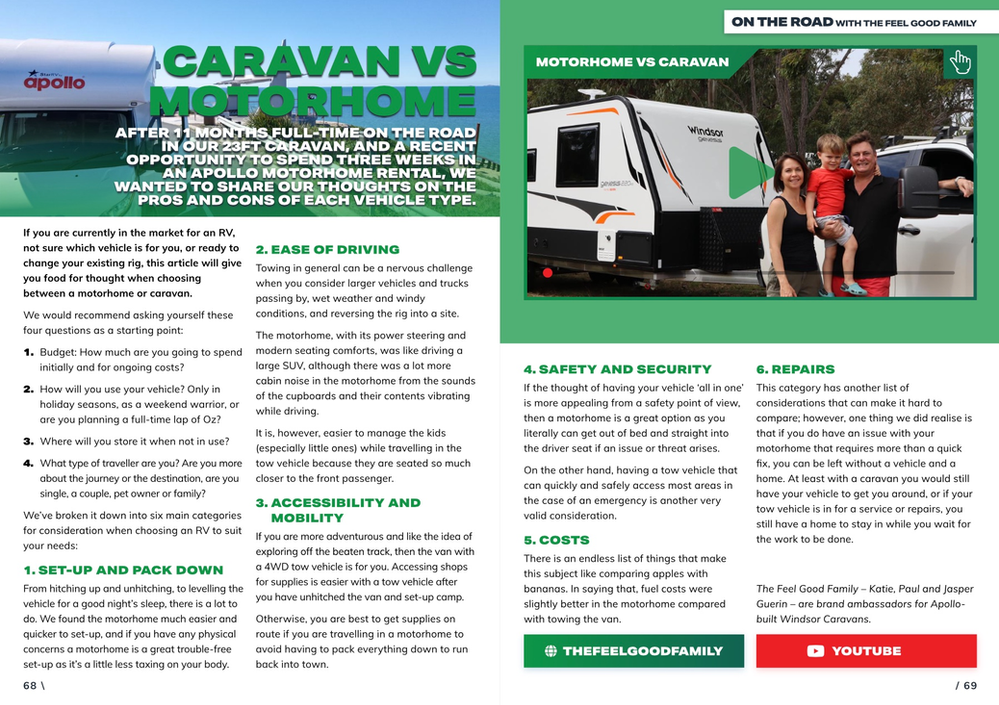 If you are currently in the market for an RV, not sure which vehicle is for you, or ready to change your existing rig, this will give you plenty of food for thought when choosing between a motorhome or caravan.
We would recommend asking yourself these 4 questions as a starting point:
1. Budget – how much are you going to spend initially and for ongoing costs?
2. How will you use your vehicle – only in holiday seasons, as a weekend warrior or are you planning a full-time lap around OZ?
3. Where will you store it when not in use?
4. What type of traveller are you? Are you more about the journey or the destination, are you are a single, couple, pet owner or family?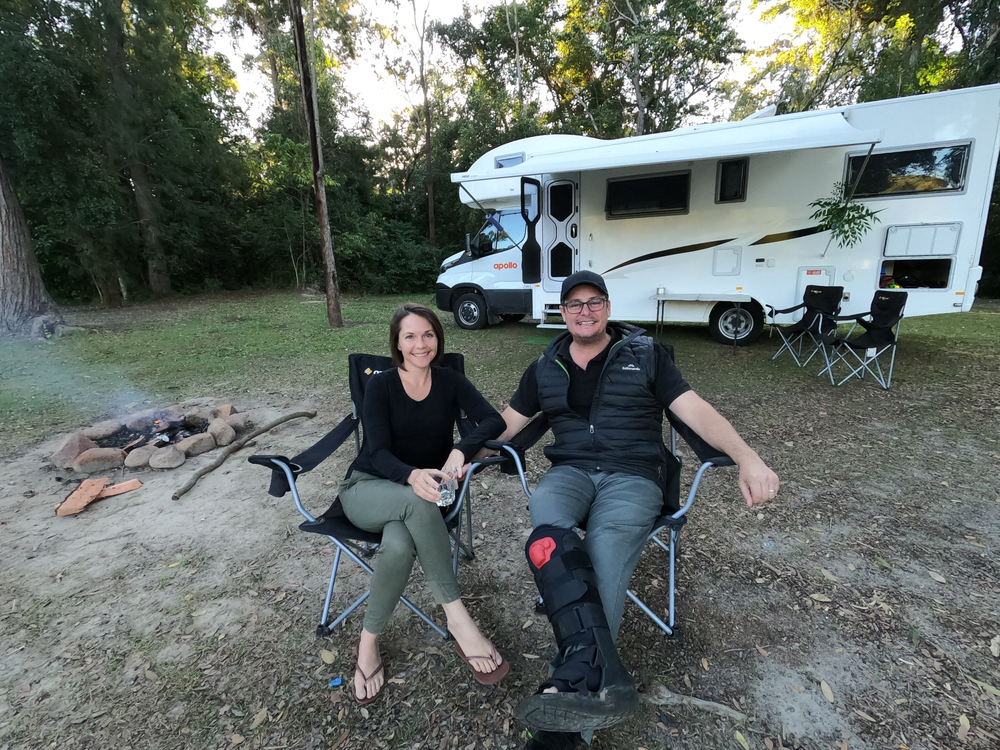 We've broken it down into 6 main categories for consideration when choosing an RV to suit your needs:
1. Set Up & Pack Down
From hitching up and unhitching, to leveling the vehicle for a good night's sleep, there is a lot to do. We found the motorhome much easier and quicker to set up and if you have any physical concerns a motorhome is a great trouble free set up as it's a little less taxing on your body.
2. Ease of Driving
Towing in general can be a nervous challenge when you consider larger vehicles and trucks passing by, wet weather and windy conditions, and reversing the rig into a site. The motorhome with its power steering and modern seating comforts was like driving a large SUV, although there was a lot more cabin noise in the motorhome from the sounds of the cupboards and their contents vibrating whilst driving. It is however easier to manage the kids (especially little ones) while travelling in the tow vehicle because they are seated so much closer to the front passengers, and you can reach back and pass food and other supplies with ease.
3. Accessibility & Mobility
If you are more adventurist and like the idea of exploring off the beaten track, then the van with a 4×4 tow vehicle is for you. Accessing shops for supplies is easier with a tow vehicle after you have unhitched the van and set up camp. Otherwise you are best to get supplies on route if you are traveling in a motorhome to avoid having to pack everything down to run back into town.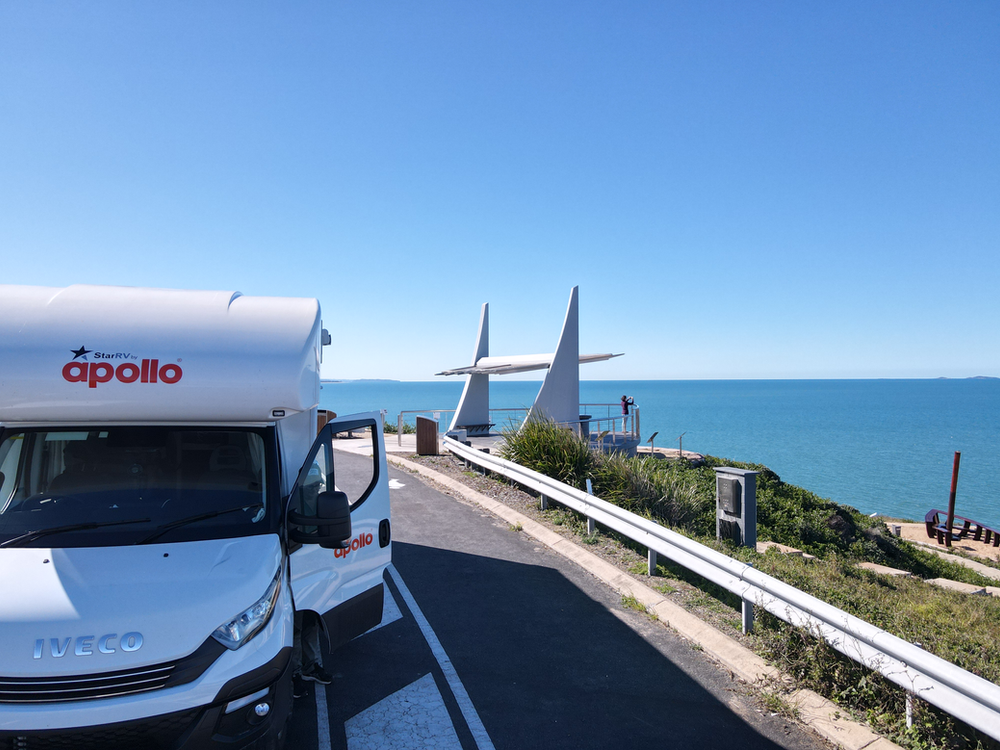 4. Safety & Security
If the thought of having your vehicle 'all in one' is more appealing from a safety point of view, then a motorhome is a great option as you literally can get out of bed and straight into the driver seat if an issue or threat arises. On the other hand, having a tow vehicle that can quickly and safely access most areas in the case of an emergency is another very valid consideration.
5. Costs
There is an endless list of things that make this subject like comparing apples with bananas! In saying that however, fuel costs were slightly better in the motorhome compared to towing the van. Motorhome insurance can be much higher than a caravan and generally speaking, a motorhome is a much more expensive set-up to get into. This of course depends on whether you are also buying a tow vehicle or already own one. And finally, motorhomes have a slower depreciation and retain their value better over time than a caravan.
6. Repairs
This category has another list of considerations which can make it hard to compare, however one thing we did realise is that if you do have an issue with your motorhome that requires more than a quick fix, you can be left without a vehicle and a home. At least with a caravan you would still have your vehicle to get you around, or if your tow vehicle is in for a service or repairs, you still have a home to stay in while you wait for the work to be done.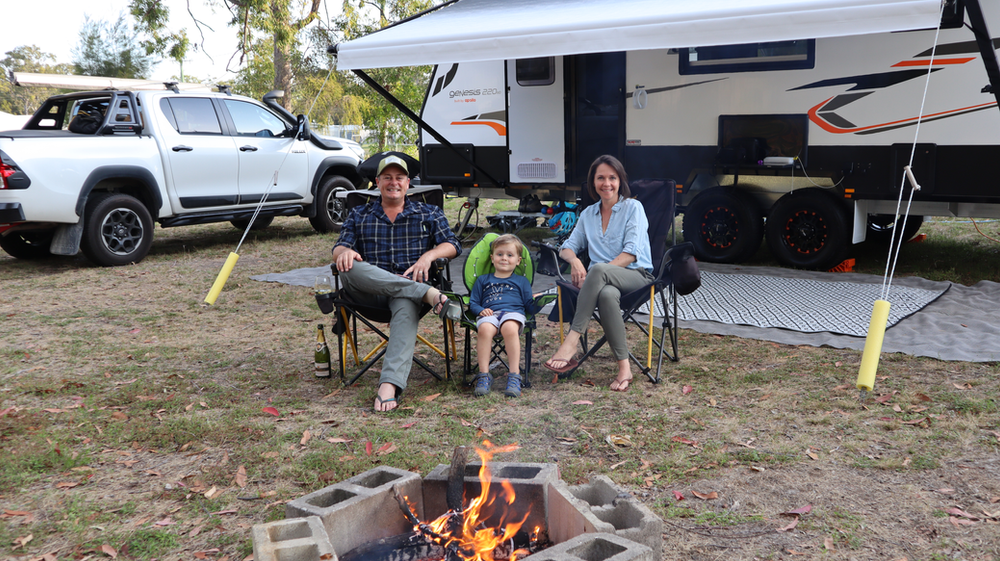 Final thoughts
It really comes down to the type of traveller you are, and if you can, try before you buy to help you decide what will fit your needs best. If towing a van is for you, we'd recommend undertaking a towing course for all drivers before you set off. Slow down in everything you do, and consider whether you are more about the journey or the destination!
Watch our CARAVAN VS MOTORHOME video for more island inspiration.
~ Paul Guerin
New episodes of our Family Travel Australia series are released on YouTube every Sunday 6.30pm (AEST), with weekly Podcast episodes airing Friday's at 8.30pm (AEST).
Follow our adventures by subscribing to our YouTube Channel, Facebook and Instagram.