As published in GoRV, October Edition 2020
The Outback had been calling us for some time, and with Queensland #GoodToGo we decided there was no time better than now to hit the road and head way out west. As a destination Outback Queensland is huge, and is divided into four regions. Having a 3 week window we decided it would be best to focus our exploration on only one region, so as not to rush our experience, and spent the majority of our time immersing ourselves at Winton in the Central West.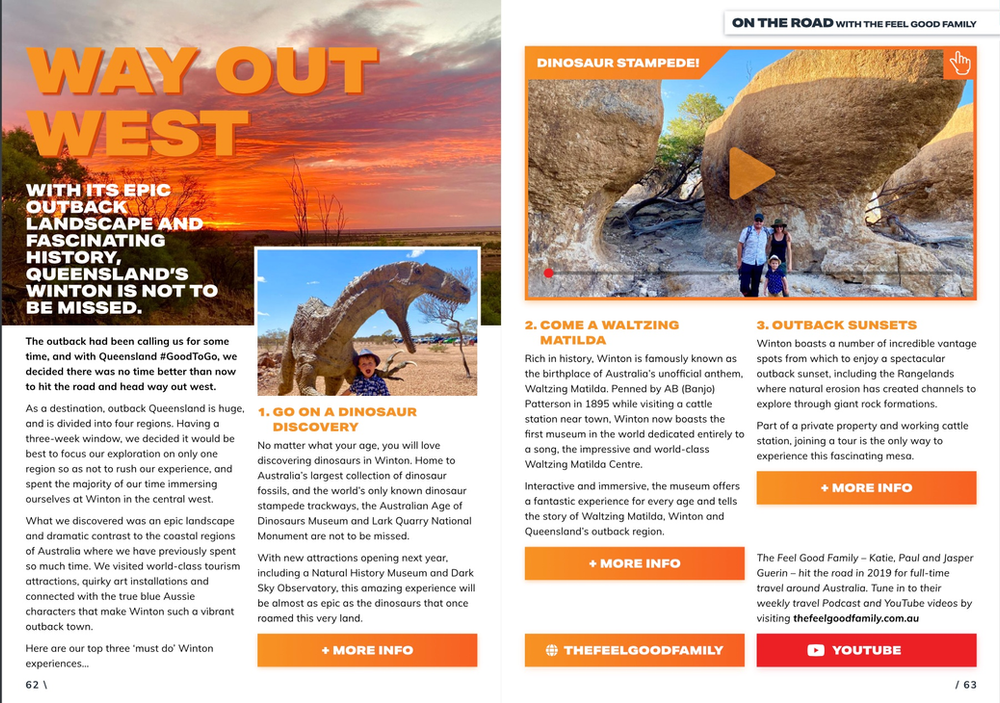 What we discovered was an incredibly epic landscape and dramatic contrast to the coastal regions of Australia we have previously spent so much time. We visited world class tourism attractions, quirky art installations and connected with the true blue Aussie characters that make Winton such a vibrant Outback town. Here's our Top 3 Must Do experiences:-
1. Go on a Dinosaur Discovery
No matter what your age you will love discovering dinosaurs in Winton! Home to Australia's largest collection of dinosaur fossils, and the world's only known dinosaur stampede trackways, the Australian Age of Dinosaurs Museum and Lark Quarry National Monument are not to be missed. With new attractions opening from 2021 including a Natural History Museum and Dark Sky Observatory, this amazing experience will be as epic as the dinosaurs who once roamed this very land.
www.australianageofdinosaurs.com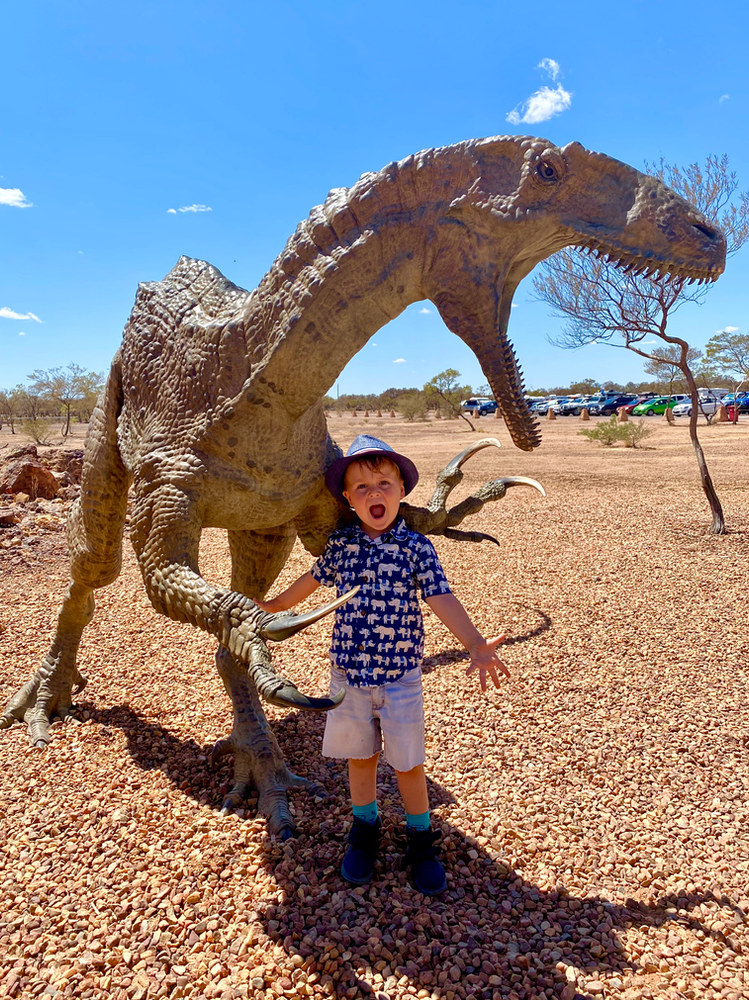 2. Come A Waltzing Matilda
Rich in history, Winton is famously known as the birthplace of Australia's unofficial anthem, Waltzing Matilda. Penned by A.B (Banjo) Patterson in 1895 while visiting a cattle station near town, Winton now boasts the first museum in the world dedicated entirely to a song, the impressive and world-class Waltzing Matilda Centre. Interactive and immersive, the museum offers a fantastic experience for every age and tells the story of Waltzing Matilda, Winton and Queensland's Outback region.
http://www.matildacentre.com.au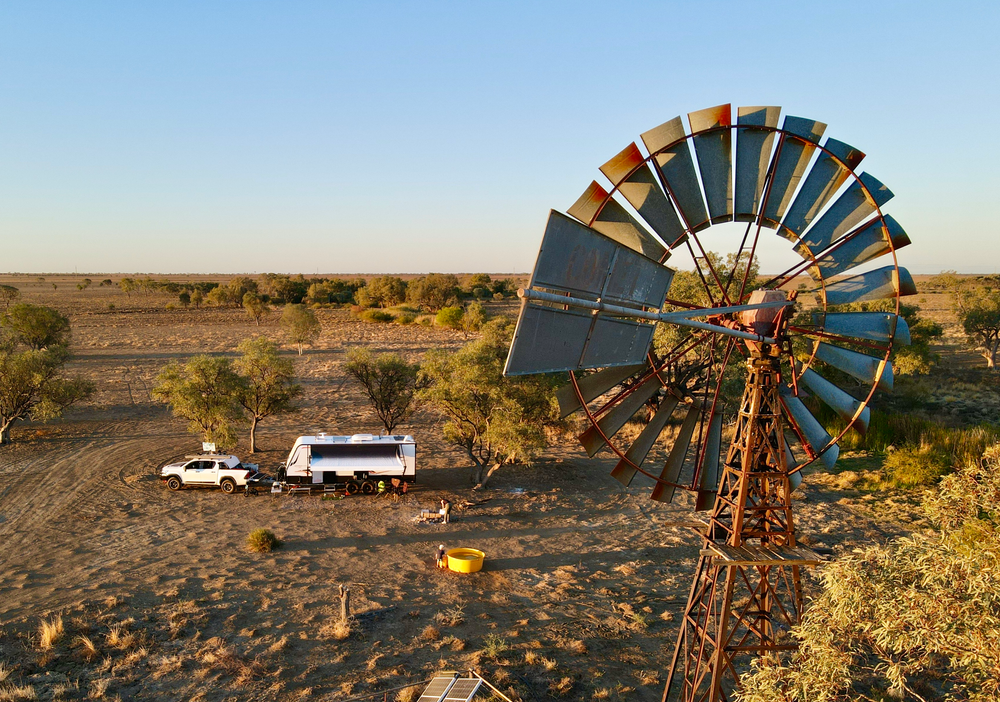 3. Take In The Vision Splendid Of An Outback Sunset
Epic landscapes mean big skies, and there's nothing quite like watching the sun transform a rugged and ancient land through its ever changing dusk colours. Winton boasts a number of incredible vantage spots to enjoy a spectacular Outback sunset, including the Rangelands where natural erosion has created channels to explore through giant rock formations. Part of a private property and working cattle station, joining a tour is the only way to experience this fascinating mesa.
https://www.reddirttours.com.au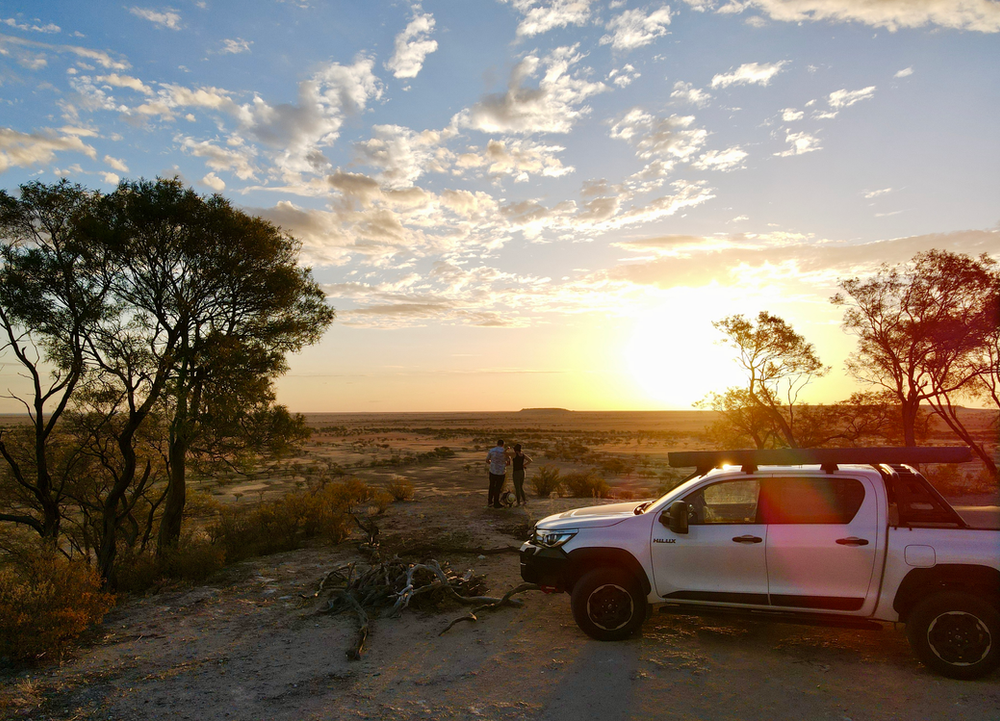 For more details on Winton visit www.experiencewinton.com.au
~ Katie Guerin
New episodes of our Family Travel Australia series are released on YouTube every Sunday 6.30pm (AEST), with weekly Podcast episodes airing Friday's at 8.30pm (AEST).
Follow our adventures by subscribing to our YouTube Channel, Facebook and Instagram.