The consistency of terrifying bush fire updates across every news feed over the last few months has been hard to deal with as a viewer, let alone the devastating outcomes that it has had for many people's lives and properties, and not to mention our native wildlife. Like millions of other Australians seeing these images on our screens evoked a sense of helplessness, and at times fear and uncertainty. However, Australia, through this ongoing crisis has once again proven that it is one of the most generous and giving countries, donating millions of dollars to bush fire relief appeals – a true endorsement of Australian folklore and mateship, to "stand up for your mates" in tough times.
Unfortunately, as the dust settles on what may be recognised as our most damaging bush fire season yet, there is confusion about the lack of clarity and uncertainty around how those much needed donations are going to be spent and distributed to bush fire victims. It is hard to decipher fact from fiction regarding charity and charitable organisations, and to really understand exactly where our donations end up.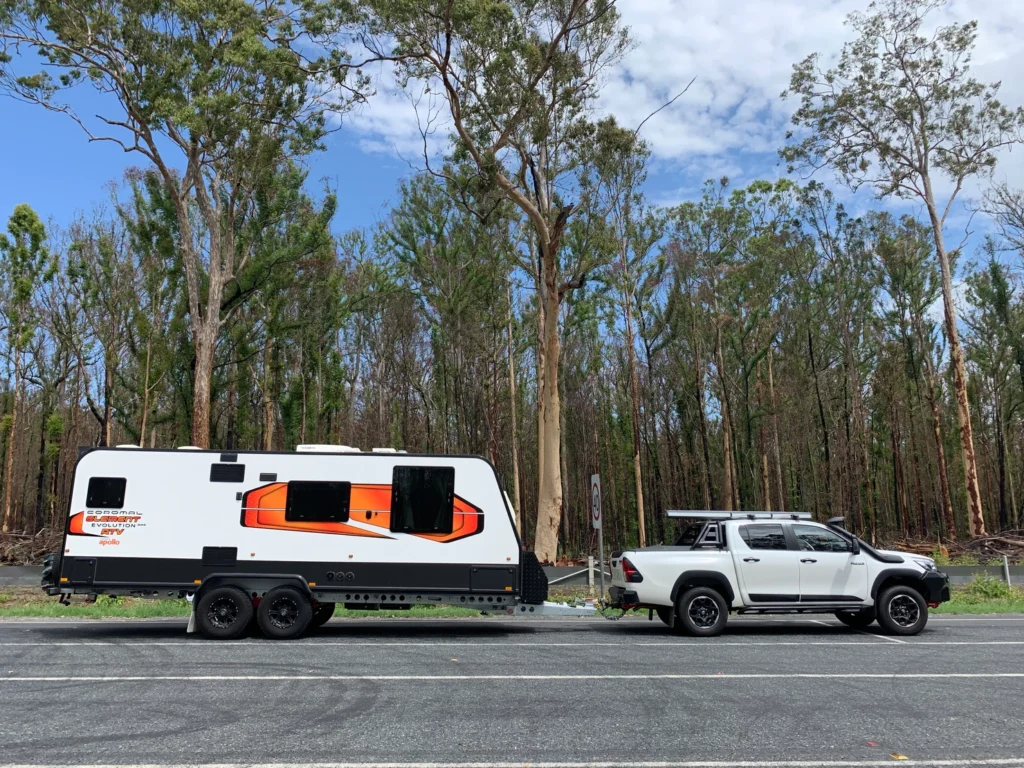 Because of the location of the fires we were forced to change our travel plans and take a different route towards Melbourne as we approached our sail deadline on Spirit of Tasmania. However, in a fortunate turn of events this allowed us to navigate our way through very large scale landscapes and communities that had been affected by fires even prior to the official "fire season commencing" through New South Wales' Central Coast and into the Blue Mountains.
Seeing the enormous expanse that these fire fronts had burnt out was confronting to say the least, and would be very overwhelming for many. The sheer size of the devastation was hard to fathom and although we had seen the online aerial images and fire zone maps detailing the areas that had been burnt, driving through these regions at ground level was certainly unsettling and made it all feel very real.
But something interesting happened on our drive up the Blue Mountains, and our feelings changed from helplessness to hopefulness as we started to see more and more pops of vibrant green in the undergrowth and on the burnt trees themselves. These vibrant bursts of regrowth and incredible new life were emerging everywhere, expressing their potential for a brighter future.
As we passed through many of the small towns we were greeted with a mix of handwritten signs displayed on fences and in front yards, from "God Bless the Firies" to "Thank you RFS". And small businesses proclaiming they are "Open for Business" and "Ready for Visitors to Return".
Just as nature has shown its incredible resilience in the aftermath, the people are showing their tenacity and determination to rebuild their lives and their livelihoods. Their community's regrowth is where the real call to action is, and where the real opportunity for that Aussie mateship is to truly shine.
Katie and I were so impressed by the "Empty Esky" campaign that is gaining momentum in the metropolitan and larger city centres. Radio stations and media outlets have been putting the call out for us to 'get behind our mates', grab an empty esky, do a road trip, and spend some time and dollars in these fire effected areas. We feel this is the most genuine way to directly assist those most in need, and help create the regrowth these communities are relying on.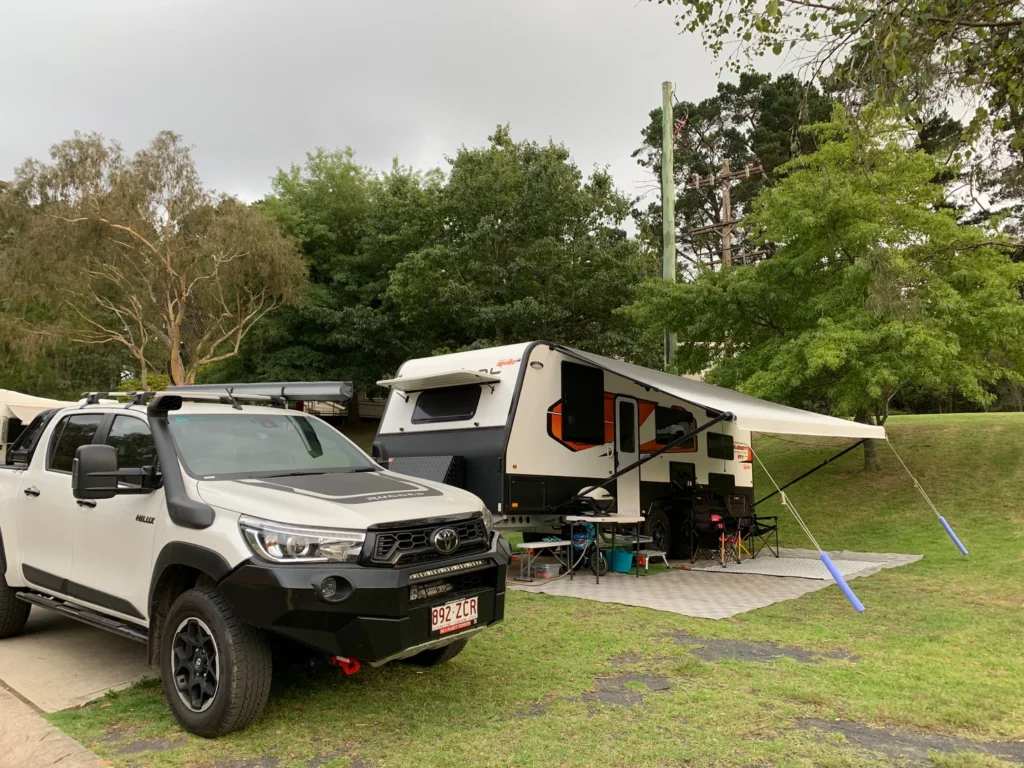 Our updated route travelled us away from the east coast, out through Western Sydney, and up Bells Line of Road into the spectacular Blue Mountains region. We based ourselves for 5 nights at Blackheath Glen Tourist Park, a wonderful caravan park that is perfect for families and those that have larger rigs like us. To see just how close the fires were to this little mountain village was frightening and again a true testament to the incredible work of the fire services and volunteers that risked their own lives to save the property and lives of others.
We had the opportunity to spend both our time and our money locally and the general feeling and energy from everyone we met was incredibly warm, welcoming and positive, and was a clear reminder of what matters most in life – connection and community.
The tourism mantra for this region is #HolidayHereThisYear and if you really want to be a part of the regrowth, plan a weekend away and visit your closest fire effected region this year. Meet the locals, share a yarn and enjoy the charm that comes from these communities because at its core, it is the people that really give a destination its heart and create the memories that bring you back for more.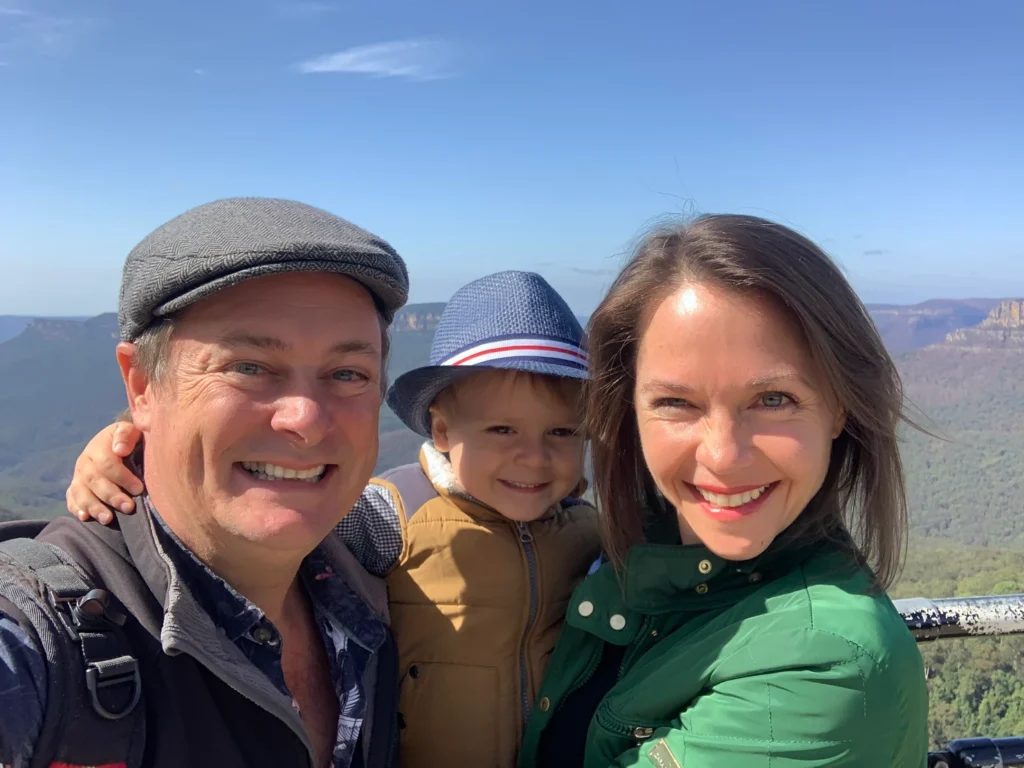 We are proud Ambassadors for the National Trust of Australia (Queensland). The Trust is a global charity organisation that protects, conserves and celebrates environmental, built and cultural heritage. The National Trust of Australia (Queensland) owns and operates Currumbin Wildlife Sanctuary, within which the Currumbin Wildlife Hospital is located. The Hospital is one of the busiest wildlife hospitals in the world, treating over 11,000 native animals every year.
If you are moved to donate to help our Australian wildlife bush fire victims, we trust and recommend Currumbin Wildlife Hospital Foundation https://currumbinsanctuary.com.au/hospital
~ Paul Guerin
New episodes of our Family Travel Australia series are released on YouTube every Sunday 6.30pm (AEST), with weekly Podcast episodes airing Friday's at 8.30pm (AEST).
Follow our adventures by subscribing to our YouTube Channel, Facebook and Instagram.