Get ready to explore the beauty of nature and be charmed by the picturesque countryside of the beautiful Sunshine Coast Hinterland with a road trip to Kenilworth! This stunning part of South East Queensland has everything a traveller could hope for – native wildlife, lush national parks, rolling hills, historic townships, charming cafes and galleries, country pubs, crystal clear swimming holes and breathtaking views. Whether you're caravanning your way around Australia, getting away for the weekend or just out for a day trip to explore this majestic region – here are some must-do activities that will make your visit special!
KENILWORTH BAKERY
Infamous for their 1kg donut challenge, no visit to this quaint country village is complete without a stop at this trendy bakery café. Indulge in one of their incredible donuts, made fresh every day, tempt your tastebuds with their original 'coffee in a donut' or take on the ultimate sweet challenge! While you're there, take some time to marvel at the fantastic murals painted by local Sunshine Coast artist Daus Von Roe.
KENILWORTH DAIRIES
Make sure you leave some room in your tummy for lunch at Kenilworth Dairies. Once operated by the Kraft Cheese Company, Kenilworth Dairies now supports local dairy farmers across the region and produces award winning cheeses and dairy products that are udderly delicious! We enjoyed the cheese platter for 2 that showcases a selection of cheeses, locally made condiments, and a hearty serve of fresh and dried fruits.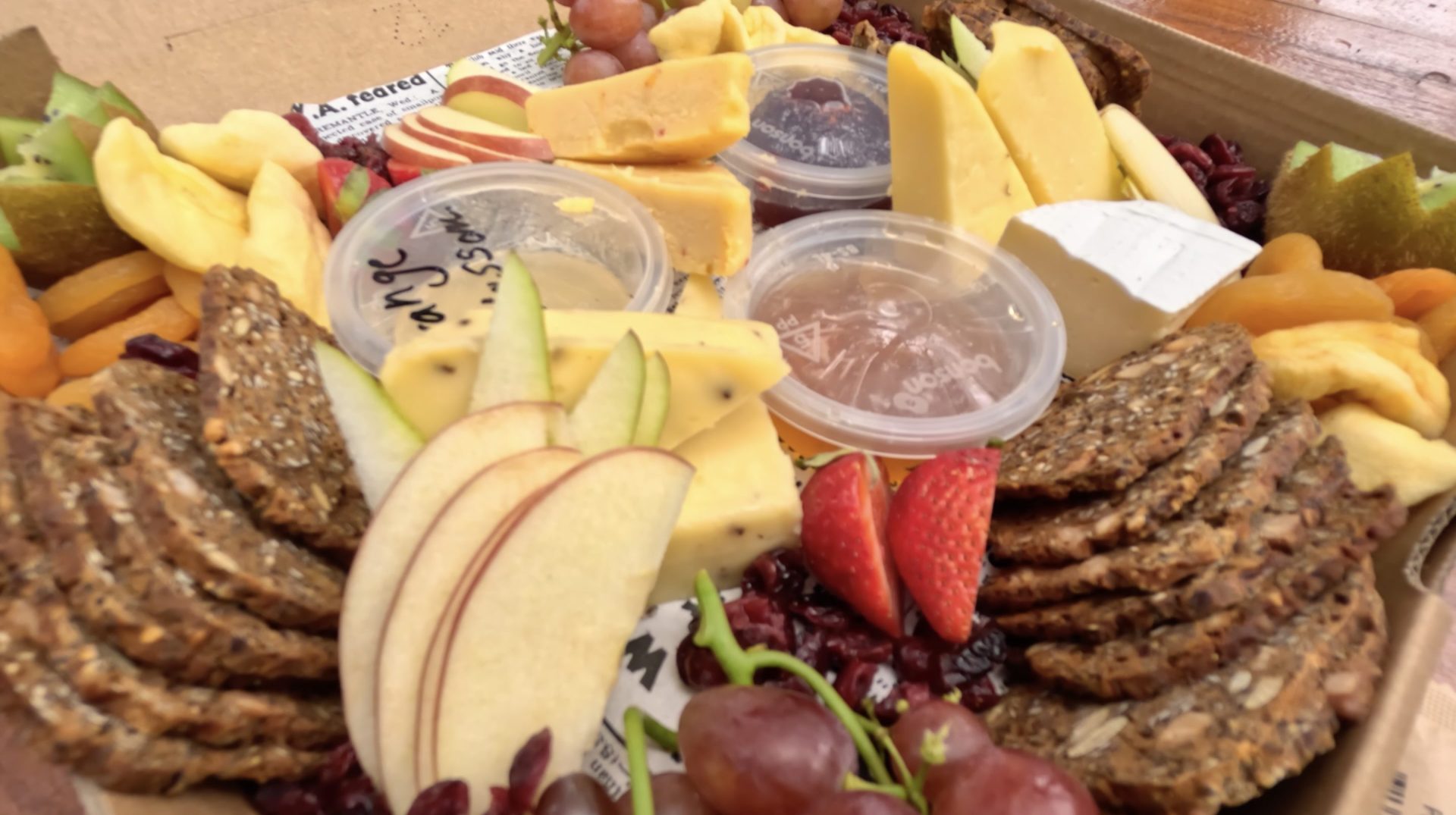 FIG TREE WALK
More green less screen! If getting the kids into nature is on your priority list you will love this family friendly short walk. Located just 7km out of Kenilworth, the Fig Tree Walk is a very easy and accessible 1km circuit that takes you through the lush rainforest, with its towering Moreton Bay Figs that are over 150 years old. A fantastic easy hike that even the littlest family member will love!
EUMUNDI MARKETS
If you're in the region on a Wednesday or Saturday, you can't go past a visit to the famous Eumundi Markets. Set in the main street of this quaint little village the markets are renowned for their locally made artisan treasures. "Make It, Bake It, Sew It, Grow It" is their slogan and with over 1.2 million visitors per year to their 600 stalls, you too are guaranteed to find something that just has to go home with you!
When it comes to campgrounds Kenilworth and the surrounding regions have an abundance of options for every style of traveller. From off grid farm stays, free camps or private properties, to low cost show grounds with access to power and water.
We stayed at Kenilworth Rural Camping, a fantastic off grid Hipcamp property within walking distance to the main street of town. Adjacent to the Charles Street Mary River Parklands, this lush 5 acre property is limited to only 5 campsites with beautiful drive through grassy areas. Pull up your RV or pitch your tent, light the campfire and sit back and relax in this beautiful environment. We loved it so much we extended our stay (a number of times!).
Hot tips:
– Fill up your RV water tanks or camping containers at Memorial Park, opposite the Show Grounds in town, before heading to camp. This is a great easy access location with plenty of room to pull up your van or motorhome, and the council bins on site are a great place to dispose of your rubbish.
– Stroll down to the Charles Street Parklands for a walk along the Mary River, or take your lilo or pool noodle and float down the lazy river.
So whether your interests lie in foodie delights, exploring nature based pursuits while taking in breathtaking valley views, or simply kicking back under magical star-filled skies – don't miss out on visiting one of South East Queensland's hidden gems!
Check out our YouTube Episode for all the stunning footage from our time Kenilworth!
OTHER POPULAR OUTBACK DESTINATIONS