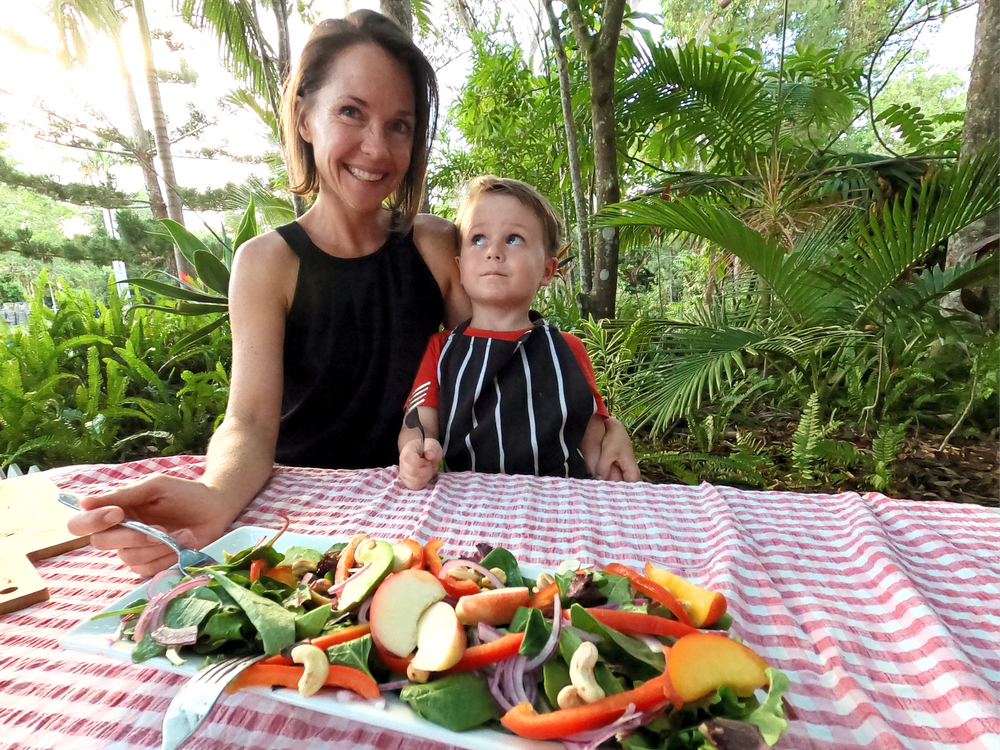 We are Springing into Summer with some more easy camping meals. This super easy, super healthy, Super-Duper Summer Salad recipe is a great option as a side, or meal in itself. You can add or remove ingredients in this salad to taste, making it super versatile too.
Check out our latest Episode below for full details on how to make this delicious salad!
Ingredients
Mixed baby green leaves of choice (baby spinach, rocket, kale etc)
1 small red onion, thinly sliced
1/2 red capsicum, thinly sliced
1 firm but ripe white or yellow nectarine, pitted and cut into wedges
1 firm but ripe white or yellow peach, pitted and cut into wedges
1 firm but ripe avocado, pitted, peeled and cut into thin slices
1/2 cup cashews, lightly toasted
1/4 cup olive oil
Juice of 1-2 limes
3 teaspoons of honey
3-4 drops Lemon essential oil*
Instructions
Layer all fresh ingredients on a large platter, starting with the baby mixed leaves. Sprinkle salad with toasted cashews.
In a jar, mix the olive oil, lime juice, honey and lemon essential oil (if using). Shake well. Pour over salad before serving, season and enjoy!
* When cooking with essential oils we recommend using only the highest quality, purest oils available. We choose ,,dōTERRA Essential Oils for this reason.
TIP: Try grilling the peach and nectarine wedges on the BBQ for a few minutes for an added boost of deliciousness!
Other Easy Camping Meals
Follow our Lap Around Australia